How much does it cost to design a website in South Africa?
Web Design costs in South Africa ranges between R1000 and R50 000 but you have great value adding service like VC Marketing who offers web design packages to their clients. So, how much does it cost to design a website in South Africa? Let's look into that question.
Web design prices in South Africa are determined by a few factors which we will look into:
1. What type of business do you have?
That will determine what type of website you need. If you are a service providing business, then you will need marketing website that will generate leads for your business. But if you are a clothing retailer you will need a shopping cart to sell your clothing online.Shopping carts are more expensive than normal WordPress website.
2. The web design industry in South Africa.
As a country we offer extremely high value to client for web design because Cape Town is considered as one of the worlds great creative hubs whilst offer those services at amazing prices in rand value compared to paying for web design in US dollar. SO based on value offering to clients we have amazing web design prices in South Africa.
3. Great it infrastructure for web hosting
When we look at technical support for you website, South Africa once again has a lot to offer. Amazon cloud based products has a very big office in Cape Town ad a lot of the architecture was developed right here in South Africa. We also have access to amazing database centers in South Africa. This makes web hosting very affordable in South Africa.
4. Start up advantages
For business start up companies there are great options like a monthly web design package which means that you do not have to pay large deposits for web design but your monthly fee covers all of that. VC Marketing offers a web design package for start ups priced at R295 per month for up to 6 pages.
5. How much does it cost to design a website in South Africa?
Well the answer is simple. There is a lot of pricing options in South Africa but ultimately you have to choose a designer that you are able to work with. One that offers support and maintenance. One that is there when you need them. One that has the IT infrastructure and web hosting knowledge to fix stuff when they go wrong.
I wish you all of the best in finding a great price for the design of your website. If I can ever be of help, you are welcome to contact me.
VIEW MORE DETAILS OF THE R295 pm WEB DESIGN PACKAGE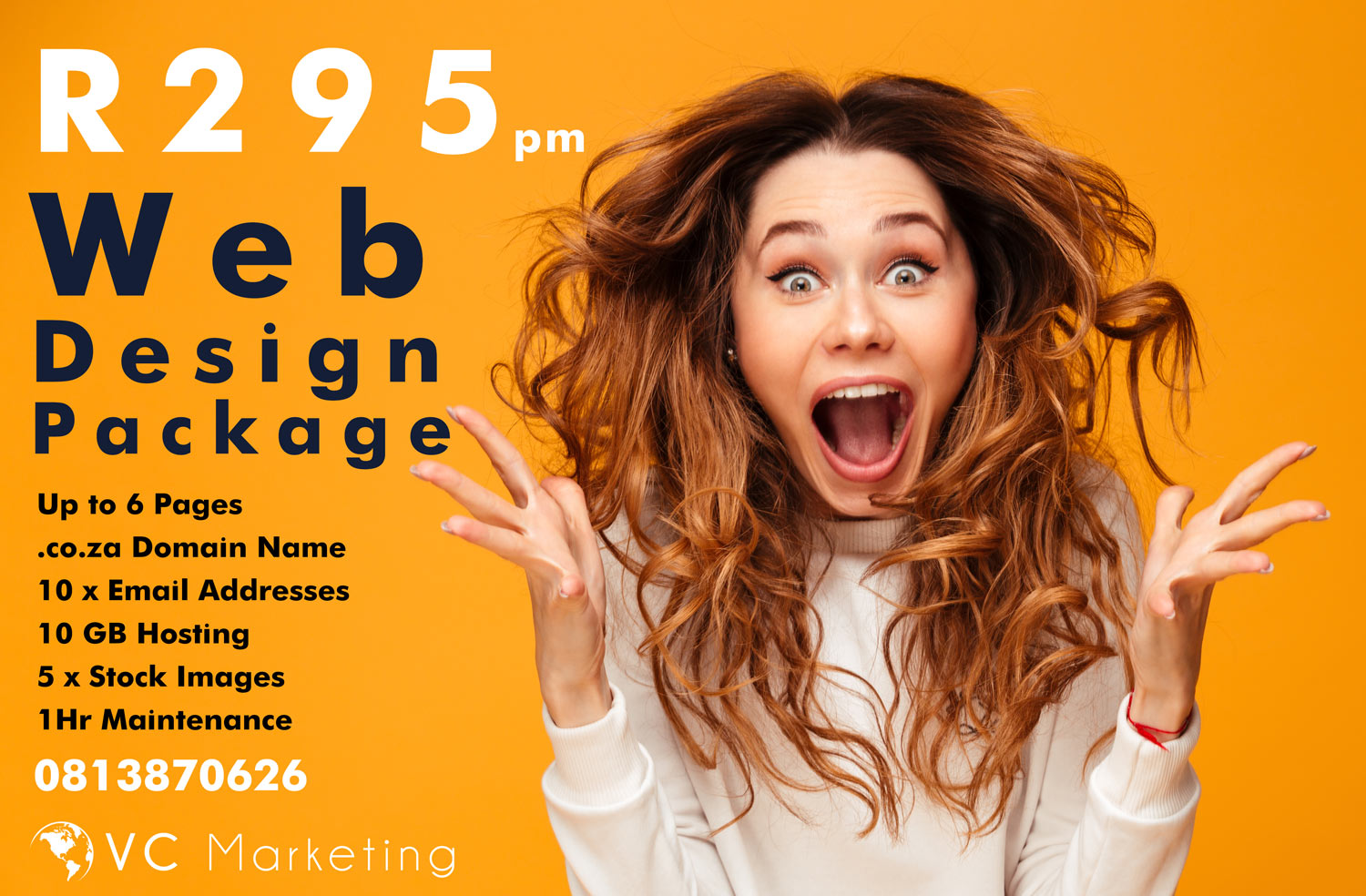 If you are looking to find web design costs in costs, please contact us or you can purchase one of our unbeatable web design packages.
BRANDING & WEB DESIGN
I am a Front End Developer and Solutions Expert(MCSE) who became a digital marketer and strategist. I love to create success for people by transforming their online business. If you are starting a business please give me a call (+27 (0) 81 387 0626) or send an email contact me or read more about me here.